Talk About a Thrill Ride!!! NEW PICTURES!!!
August 30, 2011
The last 7 days has been like a rollercoaster! Literally! Last week, after some time off, I found myself on our morning shows. I love the morning. Its my body that's not exactly sure what to do with it. For years I've been a night-shifter. Go to bed late. Get up late. From time to time I get assigned the early morning gig. Its like my world is turned upside down.
Okay … so I'm not good at waking up early. As long as I'm confessing I'm scared of heights. Really. And, I'm not a big fan of theme park rides that go round and round. So, what do my producers do? They send me on a ride that goes 301 feet into the air and, yep, goes round and round. Its like a merry-go-round on steroids. Its the WindSeeker at Knotts Berry Farm. New ride. I have to test it out or, as one producer told me, find a stunt double.
The stunt double idea sounded pretty good, but there was something inside of me pushing me to give this a shot. One of my technical guys said "sometimes you have to push the boundaries" while others suggested I confront my fears. All right! I did. Here are a few pictures from the camera mounted on the seat in front of me. I want to thank the folks at Knotts Berry Farm for sharing these with me. They are a reminder of how nervous I was at first and how relaxed I became the more I rode WindSeeker.
One thing that really helped was having someone to talk with and, in these pictures, that ride-buddy was Robb Alvey who owns Theme Park Review. By the way, you can find TPR on the web. Good reading!
Okay picture time…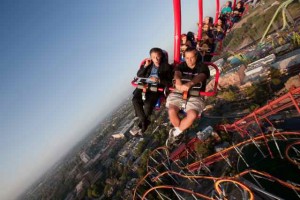 Hal … a little queezy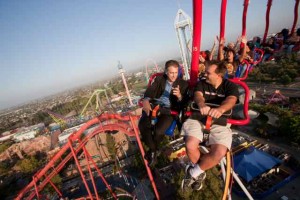 Hal … a little better!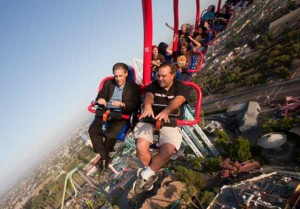 Look at that Hal!!!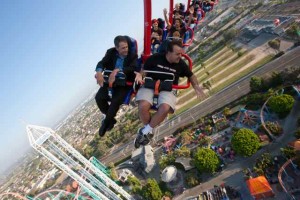 He's lookin' down! That Hal is really something!!!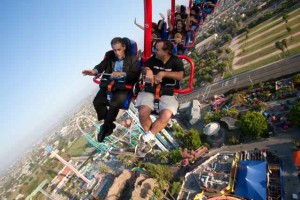 Hal and Robb's EXCELLENT ADVENTURE!!! 🙂
Now, I'm back on the ground and this week I'm working nights. My body says thanks! But, I know I'll be back on days very soon to cover the trial of Dr. Conrad Murray. In some ways, that will probably be like a rollercoaster!