March 3, 2005
February 28, 2005
February 21, 2005
February 14, 2005
February 6, 2005
January 30, 2005
January 23, 2005
January 17, 2005
January 10, 2005
January 1, 2005
December 27, 2004
December 20, 2004
December 13, 2004
December 6, 2004
November 30, 2004
November 14, 2004
November 7, 2004
October 29, 2004
October 22, 2004

October 18, 2004
October 11, 2004
October 4, 2004
September 28th, 2004
September 20, 2004
September 13, 2004
September 6, 2004
August 27, 2004
August 20, 2004
August 13, 2004
August 6, 2004
July 30, 2004
July 24, 2004
July 17, 2004
July 11, 2004
July 4, 2004
June 21, 2004
June 14, 2004
June 7, 2004
May 28, 2004
May 20, 2004
May 14, 2004
May 7th, 2004
May 1, 2004
April 25th, 2004
April 17th, 2004
April 10th, 2004
April 4, 2004
March 14, 2004
March 7, 2004
February 24, 2004
February 17, 2004
February 10, 2004
February 2, 2004
January 20th, 2004
January 14th, 2004
January 7, 2004
December 30, 2003
December 24, 2003
December 20, 2003
December 7, 2003
December 1, 2003
November 23, 2003
November 9, 2003
November 1, 2003
October 24, 2003
October 17th, 2003
October 3, 2003
September 27, 2003
September 11, 2003
September 9, 2003
August 31, 2003
August 20, 2003
August 11, 2003
August 3, 2003
July 28, 2003
July 21, 2003
July 11, 2003
July 4, 2003
July 1, 2003
June 15, 2003
June 8, 2003
June 2, 2003
May 23, 2003
May 18, 2003
May 12, 2003
May 5, 2003
April 28, 2003
April 17, 2003
April 13, 2003
March 30, 2003
March 10, 2003
March 2, 2003
February 24, 2003
February 10, 2003
February 3, 2003
January 20, 2003
January 13, 2003
January 5th, 2003
December 30th, 2002
December 23rd, 2002
December 16th, 2002
December 9th, 2002
November 25th, 2002
November 11, 2002
November 4, 2002
October 28th, 2002
October 21, 2002
October 14th, 2002
October 7th, 2002
September 30th, 2002
September 23, 2002
September 16th, 2002
September 8th, 2002
September 1, 2002
August 27th, 2002
August 19, 2002
August 4th, 2002
July 29, 2002
July 22, 2002
July 15th, 2002
July 8, 2002
July 1, 2002
June 24th, 2002
June 17th, 2002
June 3, 2002
May 27th, 2002
May 20th, 2002
May 13, 2002
May 6, 2002
April 29 , 2002
April 22, 2002
April 15, 2002
April 8th, 2002
April 1st, 2002
March 18th, 2002
March 11th, 2002
March 4th, 2002
February 25th, 2002
February 18th, 2002
February 11th, 2002
February 8, 2002
February 4th, 2002
January 28th, 2002
January 21st, 2002
January 14th, 2002
January 7th, 2002
December 31st, 2001
December 17th, 2001
December 10th, 2001
December 3rd, 2001
Weekly Features
Letter from New York

Mathew Tombers is the President of Intermat, Inc., a consulting practice that specializes in the intersection of media, technology and marketing. For two years, he produced the Emmys on the Web and supervised web related activities for the Academy, including for the 50th Anniversary year of the Emmy Awards. In addition to its consulting engagements, Intermat recently sold METEOR'S TALE, an unpublished novel by Michael O'Rourke, to Animal Planet for development as a television movie. Visit his web site at http://www.intermat.tv

March 03, 2005
A Night At the Razzies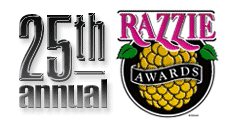 On Sunday February 27th millions of people watched the Oscars and most, I suspect from anecdotal feedback, were bored and a little disappointed. It was truly a lackluster sort of event – an event that had seemed to have been put through a blender and blended to blandness. The set was magnificent. One critic described it as doing everything but talk. Perhaps next year?
However, if you had been daring and a little subversive you might have found yourself the evening before at the Ivar Theatre in the heart of Hollywood. When I arrived in Los Angeles, the Ivar was a run down, second rate venue that was a bastion of burlesque's last gasp.
Today it is has been renovated and is a small playhouse for legitimate theatre although it is still a bit frayed at the edges. This year it was the home of the Razzies; the awards given out by the Golden Raspberry Foundation for the worst achievements in cinema during the past year.
It was no great surprise that Halle Berry "won" for Worst Actress of 2004 for her performance in the generally reviled CATWOMAN, which, also no surprise, won the Razzie for Worst Picture.
It WAS a great surprise that she made an appearance to accept her award. Most Hollywood personages generally run from the Razzies, distancing themselves from whatever might tarnish their glitter. However, Ms. Berry went up several notches in my estimation for her funny, gracious and even touching speech. She gave credit to her mother, who told her to graciously accept the good with the bad and since the Razzie was the worst, it was good of her to come and get it. She showed more spine than last year's winner for Worst Actor, Ben Affleck, for his body of work in 2003 which included the very tasteless GIGLI. She swept onstage holding her Oscar high and left clutching it and her Razzie.
There was a political note to this year's award as George W. Bush won the 2004 Razzie for Worst Performance by a Male for his work in FAHRENHEIT 9/11, coupled with Donald Rumsfeld as Worst Supporting Actor with Britney Spears winning Worst Supporting Actress for their roles in the same film.
Obviously, the majority of members of the Golden Raspberry Foundation are not Republican.
This was the 25th Anniversary of the Razzie Awards and the press was there, the place overflowing with reporters from nearly every other country. The Serbians were there. The Brits seemed to be covering every aspect, from top to bottom. The foreign press seemed to be lapping up the irony. Halle Berry made CNN's Saturday night and Sunday and Monday morning.
All of this should be credited to John J.B. Wilson, the man who started the Razzies as a joke in his living room twenty-five years ago and who has kept the flame of fun burning for all these years, supported by a faithful band of jesters who think Hollywood deserves to have a little fun poked at it.
The humor came mostly from spirited readings of what various critics said about the films and performances being skewered. I have never thought of movie critics as fun folks but turns out they can poke fun with the best comics.
After accepting her Razzie for Worst Performance by an Actress, Halle Berry departed in her limo for, I'm sure, a glamorous pre-Oscar party in a swankier part of town.
So when it came time to give out the Razzie for Worst Film, it was Julie Newmar, the original Catwoman in the Batman series on television, who came on-stage to accept it. I felt sorry for her. As she said, she needed a writer. But her appearance only added to the fun.
It was a selfless night of work by people who did it out of love – love for the movies and for the love of having fun and for the love of being able to laugh at the center of the town in which they lived.
Good job, JB.